With room for around fifty customers, Brew La La is quite a bit more spacious than most Tokyo beer bars, and the friendly multilingual staff help make this a relaxing place to hang out. There's even room for a shuffleboard table - the first one we've ever seen in Tokyo - and staff are available to explain the rules and help referee close rounds.

The bar's dozen or so taps dispense a selection of well-chosen Japanese craft beers for the most part, although we did spot one Canadian import during our visit (Brew La La's owner hails from Toronto). There's also a small fridge stocking a rotating selection of interesting canned and bottled beers, mostly US imports, and a small selection of artisanal liquors if you're so inclined.

The tasty grilled-cheese sandwiches here are another draw. They come in nine varieties, including bacon-jalapeno, sausage-sauerkraut; and pizza-style, and all are reasonably voluminous. Homesick Canadians will also appreciate the appearance of poutine on the menu.

The background music tends toward the rock end of the pop-music spectrum. Beers are Y700 and Y1000 for small and large sizes, cans and bottles are in the Y750-900 range, and sandwiches are around Y900.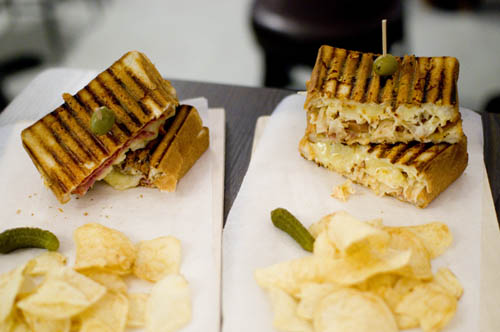 Brew La La
Minato-ku, Shimbashi 3-2-2, Ravina Shimbashi 2F.
03-6205-4230
Open 5pm-midnight. Closed Sundays.

: No smoking
---